The WikiLeaks founder, Julian Assange, is facing growing legal problems around the world, with the US announcing that it was investigating whether he had violated its espionage laws.
Assange's details were also added to Interpol's worldwide wanted list. Dated 30 November, the entry reads: "sex crimes" and says the warrant has been issued by the international public prosecution office in Gothenburg, Sweden. "If you have any information contact your national or local police." It reads: "Wanted: Assange, Julian Paul," and gives his birthplace as Townsville, Australia.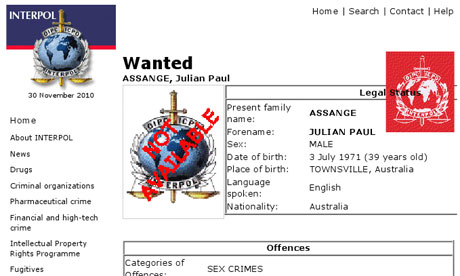 The warrant stems from accusations of sexual assault made earlier this year by two women he met in Sweden during a WikiLeaks-related trip. When the more serious charge of rape was dropped, he called the accusions a smear campaign.
However, the case against Assange was reopened and upheld by an appeals court. Swedish authorities intend to interrogate the WikiLeaks founder and have issued an EAW (European Arrest Warrant) to get him.
WikiLeaks has been the center of media and political attention for its recent leak of the Afghan War Diaries and sensitive U.S. diplomatic cables. The result has been an unprecedented look into U.S. diplomacy, including discussions surrounding Pakistan relations, a plan of action for North Korea, and the hacking of Google's servers by China's Politburo that caused an international uproar.